Spiders never stop trying to get into your home and you never stop working to keep them out. Most of the spiders are found in webs, which could be located in your house, office, or any other place where you live and work. Spiders are harmful when getting squeezed on your skin or fall into food material. They rarely interact with the human in any form but keep on increasing their areas in the form of webs. If you do not clean their webs, soon you will have a scene all corners filled with spider webs. Before this happens, look for a Spider Control Brisbane service and get rid of them as well as their webs.
Spiders and Australian's Life
Customers should accept spiders as a part of normal life living in Australia, they are important to the natural ecology. We should consider their living but they are dangerous too. So precautions and prevention have to be taken to get protected from their effects. Spiders can easily survive underwater, when you find at the bottom of the swimming pool do not assume it be dead. You may suffer severe pain after touching them. Be good to them outside your home but keep them away from your home. Do not let them get entirely into your life with the help of Spider Control Brisbane.
What Are The Indication That Spiders Have Infested Your Home?
There are several signs which can be easily observed to get assured that a place is having a spider infestation. They are:
Corners, crevices, and ventilators filled with spider webs.
Spider running on the floor, bed and mosquito net, etc.
The presence of lizards as they feed on spiders and other insects.
If you get burn type marks on your skin overnight, this may be due to spider urine or you might have crushed a spider with bare skin.
Food poisoning happens with the spider presence in the food by mistake. They get into your food if their numbers are more otherwise they remain intact in the corners.
If you are observing any of these signs at your place, there is a need for Spider Pest Control Brisbane service for inspection as well as extermination.
Spider Inspection & Monitoring Service
If you are facing spider infestation call for professional spider monitoring and inspection service. The professionals will find out all the spots where spiders are present. You can also monitor and inspect your house for their presence but that might not be effective. Professionals are focused on their work and do it properly. Even though you are not having an infestation then also you can get a monitoring and inspection service to protect your house from an infestation in the future.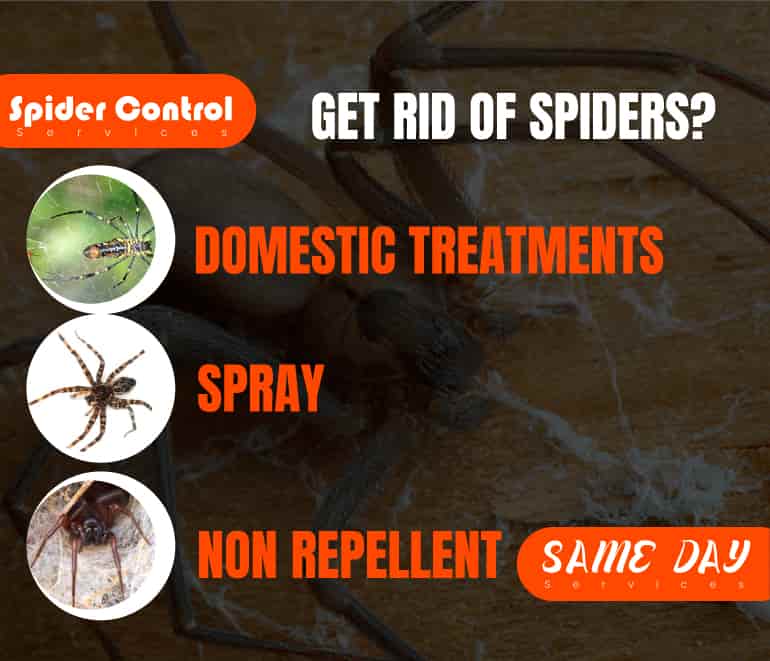 How to Get Rid of Spiders?
There are several methods and tips in the market to get rid of spiders. We explain below the most effective methods which are:
✔ Spray:
The use of spray-on spiders and their webs are very effective in killing them. There are various types of spray available in the market, choose the best one and get rid of them. After spraying, clean the webs and throw them away from your home. If any spider remains alive in the webs should not return to your place.
✔ Domestic Treatments:
You can prepare a solution with the help of things present in the house to treat the spiders. Clean all the webs and put them on fire. Treat the clean area with pesticides to prevent the arrival of the new spider.
✔ Non Repellent:
Use non-repellent made for spiders which will repel and keep them away from your home. It prevents their entry and ends all chances of infestation.
Prevent Spider Infestation By Hiring Professional Spider Pest Control Specialist
Have spider infestation and am tired of dealing with them with DIY ideas and methods. It's time to call professionals. They are highly skilled and experienced people specifically made for this service. There are no chances of mistakes from their side and getting rid of spider infestation to any extent is fixed. For better and affordable service, you can come to Henry's Pest Control Brisbane. We are in this service for more than 25 years and have been helpful and useful to a large number of customers with our service. Call us today for cockroach control services in Brisbane at unbelievable prices.
Our Service Benefits
Henrys Pest Control Brisbane provides the best professional service to get rid of spiders and other pests.
The Benefits of Having Our Services Are:
Full Proof Extermination: –

You can check yourself and we are sure that you will not find any spider at the end of our service.

247 Hours Availability: –

We are available 247 hours to get the queries, bookings and give the service.

Same Day Service: –

Our services can be availed on the same day of booking.

Eco-Friendly Service: –

Our methods and chemicals are based on eco-friendly guidelines which make our service safe for all except pests.
Geo Location
Brisbane, QLD, Australia
Latitude: -27.470125 Longitude: 153.021072
FAQs
Do you serve locally in Brisbane which is the nearby region?
Why not, we have spread our services whole over Brisbane and nearby areas. So, book our service now and we will be available to you within an hour.
Do you provide us with proof of your service?
We make sure to provide you with a complete and accurate report of the work we do for you. If you have any questions, then you are free to contact us. 
Are your services safe for our pets?
Yes, we guarantee the safety of your loving pets as we use chemical-free products and so they do not harm your pets and your family also.