Ants may differ in size and colour but their behavior remains the same when they infest anywhere. The most vulnerable sites for their infestation are places stored with the food item in any form. Food items having sugar as ingredients are their favorite and they can reach it anyway. They can be found anywhere and do need not any particular way to get into your premises. Humans do not have much impact on ant bites, but multiple bites can be a reason for many problems. To keep your things and self safe from them get professionals for Ant Control Brisbane service.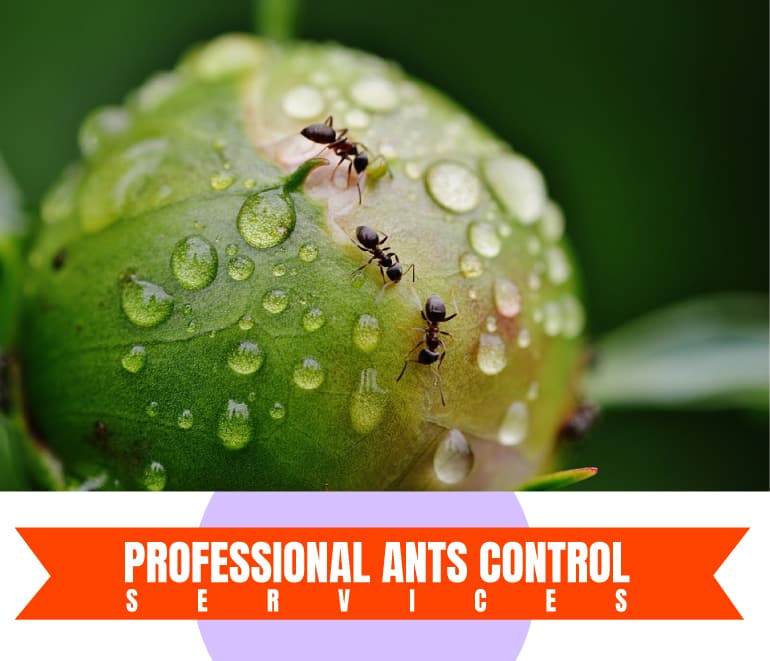 Signs of Ant infestation
There are several signs which can be observed to get surety about ant infestation.
The Most Common Signs Are:
If you find an ant moving inside your house, it may be that a group of ants is hiding in.
If the food items are getting infected by ants.
The waste material, dead insects, or soil particles are carried by ants. If you find these inside your house, it may be the work of ants.
Look for ants nest in the corner or places in touch with the soil. The soil particle will be in extremely small size and upheavals can also be found.
Ants traveling on a path to enter your house. The starting point will have an infestation.
How To Get Rid of Ant Infestation Effectively & Quickly?

Ant Control Brisbane
✔ Getting Ants Outside of Any Item: –
If ants get into your cloth or food items place them in the sunlight for some time. The ants will get out by themselves. Sunlight is the best source to keep your things dry. But this will not be helpful in an infestation case.
✔ Residential Area: –
Any of the residential areas can have ants infestation as there is the presence of several sources which attract ants. The food items, clothes, and more. It is normal to see one or two ants but infestation cases are worst and irritating. It will not be easy to get rid of them either you try any of the DIY methods. The professional service will be very effective and helpful in ant removal.
✔ Commercial Places: –
All the commercials are equally vulnerable to get an infestation. They do not need any reason to get into your premises and create a nuisance. The commercial places are mostly large in the area so it will not be easy for the owner to look for ants and their infestation. You can simply look for an ant pest control company that gives full-fledged service starting from ant inspection to ant treatment.

How Can You Prevent Ants from Getting In?
There are several tips and ways to prevent ants from getting in. Some of the best ways are:
✔ Ant Proof Place:
Make you're place ant proof with special instruction to the maker of the house. The ant-proof houses have rare chances to get ant infestation as the most expected pathways for ants entry are closed and the walls and floors are treated accordingly to repel the ants.
✔ Repellent:
There are several types of repellents available in the market as well as some homely methods that are effective. Some plants also work as a repellent. You should be careful while buying repellent. The repellents proved to be a useful product to keep away the ants.
Professional Ant Pest Control And Solution in Brisbane
All the DIY tips and methods help you with fighting against the ant infestation but not permanently. To get a permanent or complete rid of ants there will be a need for a Professional Ant Control Service. The professionals are well known for the living and feeding habits of the ants which make the process of extermination easy and effective for them. Get the professionals and relax back to see the result. Afraid of spiders don't worry we also provide spider control services in Brisbane.
Why Trust Henry's Pest Control Brisbane?
Henry's Pest Control Brisbane is a well-established name for providing pest control service in Brisbane and its suburbs. We facilitate our highly trained and skilled professionals with best tools, modern methods and effective pesticides to use their skills to the optimum and come out with a superb result. Our service is eco-friendly and safe for all. So, you can trust us for Ant Control Brisbane.
Geo Location
Brisbane, QLD, Australia
Latitude: -27.470125 Longitude: 153.021072
FAQs
Is your ant control service certified?
Do not worry about that, we assure you about our ant control services as we are certified by the authorities in the pest control industry.
Can we control ants at home only?
There are many tips which we suggest and you can apply them easily but these tricks are useful only at pre-primary levels. After that, you can not do anything without the help of professionals. In such cases, you can avail of our services in Brisbane.
Do you provide your services at midnight in Brisbane?
Yes, we are ready to serve you at any point in time even at midnight as our company offices are open 24 hours a day and our services are available to you 365 days a year. Hence, you can take advantage of this facility.