Amazing Pest Control Services Provided By Henry Pest Control In Mermaid Beach
If you want to get rid of pests from your house, hire Henry Pest Control. We are the topmost pest control agency in the Pest Control Mermaid Beach industry. We offer amazing pest control services in all parts of Mermaid Beach. Our agency has been serving all our customers in this town for many years. All the professional pest exterminators that work with us are highly trained, certified, and licensed to provide the services. They have been working with us since the beginning and with all these years of experience, they are capable of providing the best services.
Is it necessary to get pest control services on a monthly basis?
Well, yes. Pests can be very dangerous for your health. Not only do they cause and spread harmful diseases but they also damage your property. It is always better to get pest control every now and then. You can never tell when the pests can return to your house and create a mess again, so we recommend that you get pest control services once every three to four months. Keep out the pests and keep your home safe and healthy. This way, you can not only save yourself from catching the diseases but also save your property especially furniture from getting damaged.
Types of pest control services that we provide for Pest Control Mermaid Beach
We at Henry Pest Control offer a wide variety of pest control services in Mermaid Beach. We are a one-stop solution for all your pest problems. Our agency offers all kinds of pest control services under a single roof. Our services for Pest Control Mermaid Beach include:
✶ Rodent control
Rodents create a great mess at your home. They chew on things and damage your belongings such as furniture, wires, and cables. Not only that but they also have the ability to cause serious diseases in humans and pets. So, get rid of rodents from your house with the help of our amazing pest exterminators.
✶ Cockroach control
We all know that cockroaches are the most commonly found pests that not only damage your property but also cause illnesses. It is better to get rid of them as soon as possible with the help of our pest exterminators. We provide amazing services for German cockroach extermination.
✶ Wasp control
Wasps are very troublesome pests that are usually found in gardens and woody areas. Get rid of all kinds of wasps right away with the help of our trained professional pest exterminators. They are capable of providing excellent wasp control services.
✶ Fly control
Flies can create a lot of nuisance by hovering around the house and making a buzzing sound that can disturb your work. Our professionals help to deal with all kinds of flies at affordable prices. So, book with us, we are just a call away.
✶ Bee control
Bees require specialized treatment. Some of the chemicals cannot get rid of the bees. Get the professionals that have proper knowledge of getting rid of bees such that all your bees will be removed in no time.
✶ Mosquito control
One of the most common pests that cause harmful diseases such as malaria and dengue are mosquitoes. They must be immediately removed from your premises to avoid such diseases. Hire our professional exterminators now and we will be there to provide emergency mosquito control services.
✶ Woodworm control
Woodworms feed on wood and that is dangerous for your furniture and other wooden objects. Get the woodworms removed in an effective manner with our professional exterminators.
✶ Termite Control
Termites need to be eliminated as soon as possible from your house as they cause huge structural damage. Hire our professionals to do so.
✶ Tick extermination
Ticks are largely seen on pets such as cats and dogs. They feed on their blood and cause infections. It is better to remove them immediately to avoid pet problems.
✶ Moth pest control
Moths are said to cause dizziness and allergies in many people. That is why it is necessary to get rid of them right away. Hire our exterminators and get rid of the moths.
✶ Flea control
Fleas feed on the blood of various beings. Their bite can cause immense pain, inflammation, and swelling. Hire our flea exterminators to get rid of the fleas now.
✶ Silverfish control
Want to get rid of silverfish? Hire our professional pest controllers to get rid of silverfish from your house. We provide the best services at the lowest prices.
✶ Spider control
Spiders seem to be harmful but their webs can cause a lot of problems. It is not safe to have spider webs around your house. So, it is better to get rid of them with professional assistance.
Same day Pest Control services in Mermaid Beach
We offer amazing pest control services in all parts of Mermaid Beach. Our professionals are very dedicated to their work and they offer same-day services. We understand the need for immediate pest control and reach your place within a few hours to provide the services. All our professional pest exterminators are always ready with their van and the equipment necessary to provide pest control services. Being a local pest control agency, we can thus provide the services on the very same day.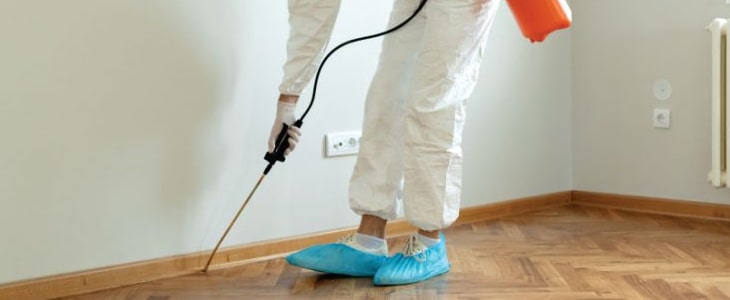 Why choose us For Your Pest Control Mermaid Beach needs?
We are one of the finest pest controllers in town.
Our agency is said to be the most reliable and trusted agency in the whole of Mermaid Beach.
We keep in mind the safety of your family, pets, as well as surroundings and hence provide pest control services using Eco-friendly products and organic solutions.
Our professionals follow all the safety measures while providing the services.
They are extremely talented and qualified to provide pest control services.
FAQ'S
1. What is the most effective way to get rid of mosquitoes?
Fumigation is the most effective way to get rid of mosquitoes. Professionals use certain chemicals and fumigate the area to kill all the mosquitoes and prevent them from entering your house. Apart from that, you can also use mosquito netting, mosquito repellents, and essential oils to keep away mosquitoes.
2. How do I know there are pests in my house?
Look out for certain signs to know that there are pests in your house. Signs to look out for pests are:
• Droppings
• Buildup on walls
• Chewed furniture and cables
• Strange musty smell
• Weird noises
3. Is your company the best pets controller in town?
Yes, absolutely. Our agency is among the top pest control service providers in the whole town. We are widely known for our reliability and professionalism. All the professionals that work with us are well-trained, certified, licensed, and insured to provide the services. We are the best in the whole of Mermaid Beach.