Certified Pest Controllers For Bird Control Service In Brisbane
Henrys Pest Control Brisbane has the best bird controllers with years of experience and knowledge. Therefore, we will get you the Best Bird Control services by the professionals in Brisbane. So, get in touch with us for Bird Control Brisbane to get the best service according to your needs.
If needed, we can send our pest control managers for Bird Inspection Service. It will help us to get a detailed insight into Bird Treatment Service. So, without further delay, get in touch with us today and choose the best solution accordingly. Our Bird Exterminators are available 24X7 hours to serve you with a quality solution in Brisbane.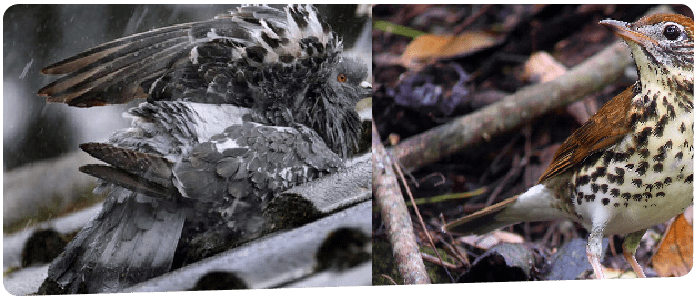 Why Is Bird Control Service Important In Brisbane?
If you wonder why you need a professional bird control team within your locality, you are yet to experience bird attacks. It is not just problematic for your crops, fruits, vegetables, and flowers, but also in daily life. Without proper balance to nature, birds grow profusely to cause a food shortage. As a result, they invade localities, causing mild to serious problems. Also, the electric wires are tricky for birds. Once they get into the wired mess, it creates a death trap for birds and a power cut for humans.
Also, there are so many birds that are harmful to crops. So many previous cases are present to explain the loss due to bird attacks. So, it is necessary to hire professional Bird Exterminators to keep bird invasion in check.
Our Bird Control Services In Brisbane
As a leading pest control agency in Brisbane, we have some responsibilities towards the local people. Therefore, we offer extraordinary Bird Control services by our certified pest controllers in Brisbane. If you are still unaware of our activities, let's give you a glimpse of our Bird Control Service.
Bird Inspection And Removal
We have the best pest control managers in our team to guide you to the best Bird Inspection Service in Brisbane. It is a mandatory step to ensure the best result of the bird removal process. Also, we offer a tested and proven Bird Treatment Service in Brisbane.
We provide Home Bird Control services in Brisbane by our professional bird controllers. For that, we offer eco-friendly solutions and biological traps to control the bird invasion of your residential property. Therefore, get in touch with us today and book the Best Bird Control service in Brisbane.
Birds in commercial areas are strictly restricted. Therefore, if you run a commercial site in Brisbane, get in touch with our Bird Control Brisbane team right away. Our certified bird controllers will get into the matter to serve you with the Best Bird Control service.
Pre-Purchase Bird Inspection
Even if you need us for a pre-purchase Bird Inspection Service, our local team is ready for that. We will send our best pest control manager to check your property thoroughly. So, you can enjoy a limited bird invasion to your property.
Emergency Bird Control Services
Emergency bird control services are the main reason that defines the Bird Control Brisbane team's credentials. Therefore, rest assured of an emergency bird control situation at your home. Call us right away, and our local Bird Exterminators will be right there.
If you need same day Bird Control Service in Brisbane, our team will be the best choice. Once you share your concern with us, we will send our local team to serve you with the Best Bird Control service in Brisbane.
Reason To Choose Us For Bird Control In Brisbane
If you are unaware of our detailed Bird Control service in Brisbane contact Henrys Pest Control Brisbane. With years of experience and dedication, our Bird Exterminators are always ready to get the best solution. That is why we are one of the most sought Bird Control service providers in Brisbane. Look at our bird control servicing facilities in Brisbane.
Affordable Bird Controllers
All of our Bird Treatment Services are affordable, and anyone can avail of our Bird Control Service. You can look at the bird control servicing charges all over Brisbane.
On-Time Bird Control Services
As a leading bird control service provider, all of our bird removal services are focused on a hassle-free life. Therefore, you will get timely bird control services from our professional bird controllers.
Advanced Bird Control Services
We use advanced bird control tools and instruments to eradicate birds from your area. If needed, we will use eco-friendly solutions. So, rest assured of the effectiveness of the Bird Control service.
Same-Day Emergency Bird Control Services
As we understand that emergencies do not come knocking at the door, we included same-day services. Therefore, we offer immediate pest control solutions for removing birds in Brisbane.
Even if you cannot avail of our services right away, we are available 24×7 hours to guide you to the best solution. Therefore, you can leave looking for Bird Control Near Me, as we are right beside you.
FAQ's
What Are The Servicing Charges For Bird Control Brisbane?
The servicing charge of Bird Control Brisbane differs depending on the type of the service. Even though our bird control services are affordable, it is better to contact our professional team near you to know the prices. 
Is It Possible To Remove Birds With Traditional Methods?
Yes, it is possible to remove birds using traditional methods. However, if the bird occurrence is severe, it is better to hire a professional pest control agency. They will use the traditional bird control solution coupled with some advanced pest control methods.
Can Professional Bird Controllers Remove Birds Without Using Chemicals?
Yes, professional bird controllers can remove birds without using any harsh chemicals. However, the solution depends on the situation. Most of the professional pest controllers aim for eco-friendly Bird Control solutions. However, if the situation is dangerous, it may require using chemicals.